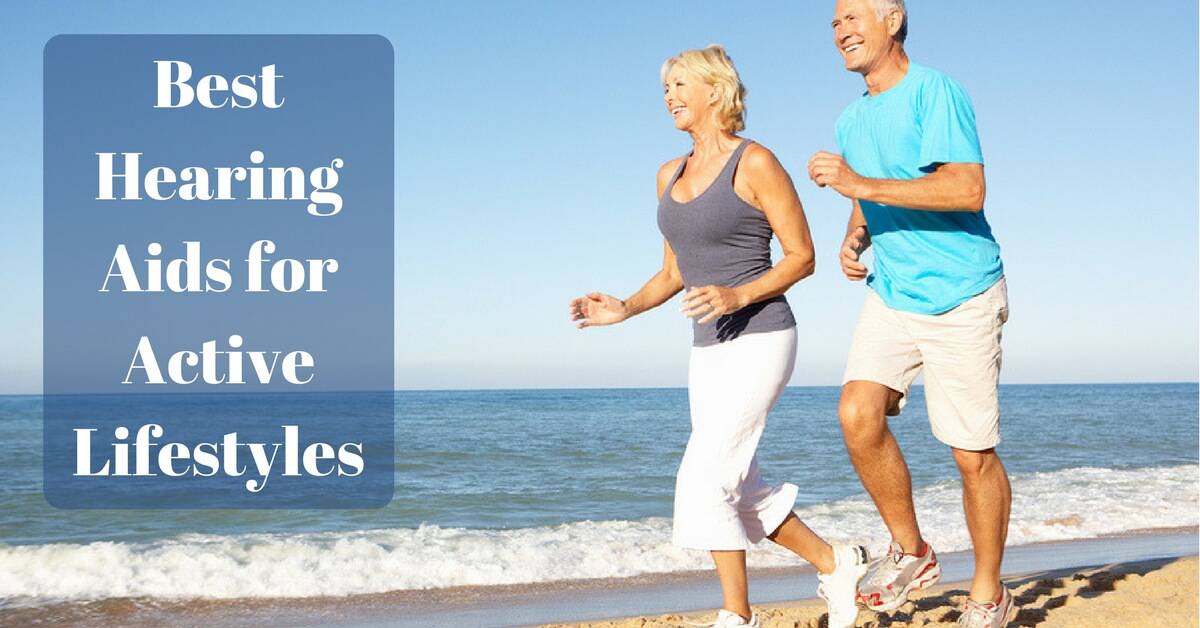 Life in the Bay means lots of time spent outdoors, whether it's short jaunts to the water, daytime activities in nature, or long camping holidays. If you're an experienced hearing aid wearer, or if you're new to these extraordinary devices, you know the benefits of your hearing aids. Sounds are richer, speech is clearer, and you are more connected with your surroundings. With the heat of summer and activities such as swimming or kayaking, should you be concerned about your aids?
Hearing aid manufacturers have designed hearing aids to withstand the many different environments we enter, with features and construction to enhance your hearing and protect them from the elements. Here are a few of our favorite hearing aids for active lifestyles.
Water and Dust
All hearing aids offer an IP rating, which indicates their resistance to water, debris, dust, etc. IP ratings consist of two digits: the first digit informs you of its solid debris resistance (1-6) and the second digit, its water resistance (1-8). Here at Bay Area Hearing Services, we offer devices from leading manufacturers Oticon, Starkey, ReSound, and Unitron. All of these manufacturers have provided their devices with a level of protection, with a special coating.
We love the Oticon OPN, a brand-new hearing aid with a high IP rating that also provides excellent access to sound. With an "open sound" solution, OPN is great for the outdoors, capturing a full spectrum of sound while providing you protection from things like water and sand. Other classic Oticon models have been given the IP rating of 57, providing great protection.
Though these hearing aids provide a high level of protection from the elements, it is important to make sure they are never fully submerged in water. If your hearing aids to get wet, take care of them as soon as possible. Open the battery door to let them dry out. In cases where they are submerged, place your hearing aids in a container of rice (as you would a cell phone) to dry them out.
Wireless Solutions
If you've had a particularly difficult workout, you know that the right song can motivate you to burst through and finish up. And what better way to listen to music while exercising than with wireless hearing aids?
Starkey and ReSound both offer Made for iPhone hearing aids, designed to stream music and media directly from your smartphone toy our hearing aids. Starkey's Halo 2 has received a number of illustrious technology awards in 2017, including the SXSW "Wearable Tech" Innovation Prize. ReSound's LiNX 3D is the newest iteration of their smart, wireless solution. Both hearing aids are constructed to resist the elements, while providing natural access to sound through a smartphone connection.
Halo 2 and LiNX 3D provide an excellent feature for outdoorspeople as well. Using your iPhone's GPS function, both phones save your preferences based on the location and make automatic adjustments for the next time you return. Experience seamless hearing on the hiking trails or during your runs through town with this feature.
Dependable Batteries
Do you find yourself out and about most of the day? In the past, traditional hearing aid batteries required frequent replacement, and if you were caught without batteries, your access to sound would dissipate. Luckily, for people who lead active lives, there is a new solution. Rechargeable hearing aids use lithium-ion batteries, which provide hours and hours of listening on a single, quick charge.
Our favorite for active lifestyles is Unitron's Moxi Fit R, a rechargeable hearing aid that is both discreet in size and design. It is currently one of the smallest rechargeable hearing aids on the market, which is convenient if you're on the move. With a single, overnight charge, Moxi Fit R provides more than 24 hours of listening and 90 minutes of wireless streaming (through a smart phone, for example). And even better, if your rechargeable batteries happen to run low, then Moxi Fit R can be powered by a pair of traditional zinc air batteries. If you plan to camp for several days on end, Moxi Fit R might be the best bet for you.
Bay Area Hearing Services
At Bay Area Hearing Services, we support people from all walks of life. We believe that treating hearing loss is integral to maintaining a healthy, active life. For more information on the hearing aids we provide, and to schedule a hearing test, contact us today.
https://www.bayareahearingservice.com/wp-content/uploads/2017/06/Bay-Area-Hearing-Services-Best-Hearing-Aids-for-Active-Lifestyles.jpg
628
1200
audseo
https://www.bayareahearingservice.com/wp-content/uploads/2015/05/BayAreaHearing_Hearing_California_Logo2-300x86.jpg
audseo
2017-06-27 15:31:28
2017-06-27 15:31:28
Best Hearing Aids for Active Lifestyles