BAY AREA HEARING AID PRODUCTS OF PINOLE, CALIFORNIA
Bay Area hearing aids come in all shapes and sizes. Don't be afraid to ask about the best solution for your individual needs.
Digital hearing aids are available from a variety of manufacturers and in all sizes, from behind the ear to completely in-the-canal.
---
0% financing available!
At Bay Area Hearing Services of Pinole, California, we will gladly provide a 45 Day Money Back Guarantee or exchange should your hearing needs require a different type of technology. Our manufacturer is one of the top 4 hearing aid companies in the hearing industry. The innovation we will have for our patients along with the outstanding service and follow up of our Licensed Hearing Care Professionals will assure that your hearing aid is best for you.
---
Hearing Aid Options Offered at
Bay Area Hearing Services of Pinole, California:
In The Ear (ITE)
These hearing aids have all of their components in the outer ear. These are all custom shaped to the patients ear and can be used for mild to profound hearing loss.
Full Shell: The most visible of the ITE, it also has the ability to provide the greatest amount of volume of any in the ear instrument for patients with severe hearing loss.

Half Shell: This instrument, though half the size of the full shell, for mild to moderately severe hearing loss, is still visible.

In the Canal: These models are used for mild to moderate hearing loss and are small and discreet.

Completely in the Canal: This type of hearing aid is the least visible when worn, may be appropriate for mild to moderately severe hearing loss when seated deeply in the canal.
Behind the Ear (BTE)
The most widely used type of hearing aid, with the BTE the components are worn in a case behind the ear and sound is conducted to a custom ear mold through a plastic tube. Their controls are generally larger and easier to adjust.
Open Ear BTE
Unlike BTEs which utilize a custom molded earpiece, Open Ear BTEs are small, sleek hearing instruments that attach to ultra-thin, almost invisible tubing and soft, comfortable tips that are inserted into your ears. A common complaint of hearing instrument wearers is the feeling of their ears being plugged up.
This is known as occlusion and is caused by the earmold or custom instruments being placed into the ear. By utilizing special tubing and tips, Open Ear BTEs dramatically reduce occlusion by creating a more comfortable listening experience.
Canal Receiver Technology (CRT)
An external receiver provides a smoother frequency response than can be obtained with an acoustic slim tube. Placement of the receiver in the ear canal, provides the fullest access to extended high frequencies. By taking the receiver out of the micro BTE housing and placing it in the ear canal, the Receiver in the Canal or RIC becomes unbelievably small, even with a 312 battery. The tiny case size and transparent wire combine to offer unrivalled cosmetic appeal.
Hearing Aid Brands Offered at
Bay Area Hearing Services of Pinole, California:
---

Unitron
Founded in 1964, Unitron is a Canadian hearing aid manufacturer, based in the Waterloo region of Ontario, also known as Canada's "Silicon Valley." To raise awareness on the issue of hearing loss, Unitron began a campaign called "What's Your Favorite Sound?" receiving response worldwide.
North Platform is at the center of Unitron's hearing aids. North is an incredibly fast processing platform that provides wearers with a 101-decibel dynamic range, capturing sounds without distortion. North's SoundNav is an automatic program that focuses on seven specific environments, with four programs dedicated specifically to conversation.
Unitron's Moxi Now is "the world's smallest receiver-in-canal hearing aid." Moxi Now is powered by the North Platform, and is the size of two blueberries stacked on top of one another. Moxi Now comes in three technology levels to accommodate different degrees of hearing loss. With Speech Zone 2 and Binaural Spatial Processing, Moxi Now ensures speech intelligibility and improved awareness of one's environment. Other Moxi aids include Moxi Fit and Moxi Kiss, both of which received Red Dot Design Awards in 2014 and 2015.
Other Unitron families include Stride (behind-the-ear and in-the-ear) and Max. Max hearing aids are designed for people who experience higher degrees of hearing loss. Unitron offers a consumer-based approach to hearing aids, with TrueFit Software and Flex. With these two programs, your hearing specialist can identify and customize the best hearing aids for you, as well as trial to test-drive your new aids.
Oticon


Oticon was founded in 1904 in Denmark, with the mission "People first." In collaboration with the Ericksholm Research Institute, Oticon hearing aids offer cutting edge design and customizable features to meet specific hearing needs.
With over a century of experience, Oticon continues to lead in research and innovation.
Oticon's Velox Processing Platform analyzes and balances sound at an incredibly fast speed, which assists the brain in the listening process. As such, wearers who experience the Velox platform have reported 20% reduction in listening effort in noisy environments and 20% more capacity to remember in challenging noise situations. With improved speech recognition features, Velox provides wearers with 30% better speech understanding and clarity in noise.
Velox powers the new OPN, pronounced "open," a hearing aid with an open sound solution. Unlike other advanced hearing aids of this kind, OPN captures all sounds in a wearer's environment, empowering the brain to decide where it wants to focus. OPN aids offer features such as OpenSound Navigator Environmental Analyzer, which scans the full 360 degrees of a wearer's listening environment and provides direct access to sound.
Oticon is known for its sophisticated BrainHearing Technology, which supports the brain in the listening process. BrainHearing Technology is available in Oticon hearing aid families such as Alta, Nera, and Ria.
Starkey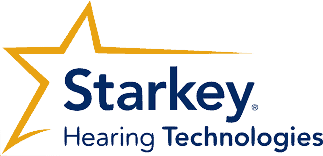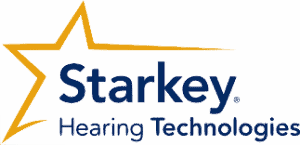 Starkey Hearing Technologies is an American manufacturer of hearing aids, founded in 1967 in Eden Prairie, Minnesota. Starkey is best known for their Halo 2 Made for iPhone hearing aid. Halo 2 is one of the first aids designed to specifically connect to the iPhone (and Android devices), creating a new level of seamless listening and accessibility. Through wireless connection, Halo 2 enables wearers to stream phone calls, FaceTime, music, movies, and other media directly from their aids to their ears.
Starkey's Muse Made for Life hearing aid is designed to analyze and balance complex listening environments, combined with comfort in noise, high-quality music listening, and improved speech recognition. With the Synergy Platform, Muse offers a natural listening experience with improved speech recognition and directionality.
Starkey hearing aids offer Multiflex Tinnitus Therapy, a feature to address tinnitus, a "ringing of the ears," which often occurs with hearing loss.
ReSound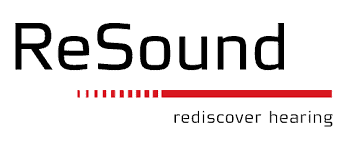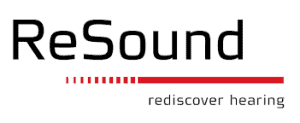 ReSound is a Danish manufacturer of hearing aids, founded in the 1940s, with the mission to "help people rediscover hearing so they can live rich, active, and fulfilling lives." ReSound introduced important industry firsts, such as the first open-standard digital chip, Wide Dynamic Range Compression sound processing, and Digital Feedback Suppression.
The LiNX2 Made for iPhone hearing aid is ReSound's most popular model. As a Made for iPhone hearing aid, LiNX2 allows people to connect to their devices to stream phone calls, FaceTime, music, movies, and other media directly to their ears. Additionally, LiNX2 activates your phone's GPS geo-tagging feature to archive your preferences by location. When you return to a saved location, your LiNX2 aids will automatically adjust, providing a truly natural and seamless listening experience.
For people with higher degrees of hearing loss, ReSound offers the ENZO2, a super powered aid. With heightened speech recognition and spatial awareness features, ENZO2 provides a comfortable listening experience. Features available with ENZO2 include New Binaural Directionality II, Spatial Sense, and Surround Sound, as well as feedback cancellation, comfort in noise and in wind, and speech focus.
After selecting your hearing aid, our specialists at Bay Area Hearing Services of Pinole, CA will fit and teach you about your hearing aid. You will know how it works, how to adjust it, daily cleaning and use, how to manage the batteries and use with a telephone. Once you walk out the doors with your new hearing aids, it is important to us that you have everything you need to be successful with them.